Below are two photographs of the same communications room. The image on the left illustrates the condition of the network when Commworx technician's arrived on the site. The image on the right illustrates a typical Commworx installation, upon completion.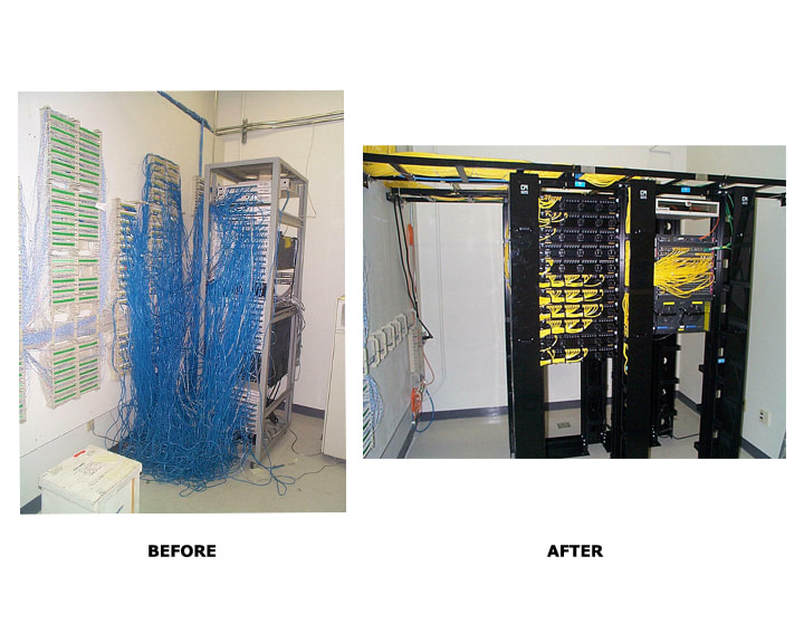 SUMMARY OF SERVICES
Communications Services
Data Services

LAN/WAN design
Security surveillance
Video conferencing
VOIP Systems
Cabling Services

Fiber optic cabling (Single & Multi-mode)
High speed LAN/WAN network infrastructure (Cat.5e, Cat.6 and Cat.7)
Multi-pair Telco
System Integration, Testing & Standards Certification
Riser Operations and Management Services
Comprehensive design and tracking services for all adds, moves, changes, test results, patching, active equipment layout and telephone locals to plan and manage complete facility cable infrastructures.
Wireless

Access Point Cabling
Building to Building Wireless Links
Communication Consulting Services
Project Management
Consulting
Systems design
Systems integration & installation
RFQ/RFP preparation
Bid evaluation and recommendation
Systems commissioning
Testing and certification
Installation & cut-over planning
Telecommunications systems audits
SERVICE DESCRIPTION
"Commworx has demonstrated a remarkable ability to go beyond simply providing quality communication installations"…
Design, installation, integration, management, and long term maintenance for moves, adds and changes of physical layer and network management communication solutions for local and remote networks.
Design, installation, integration, commissioning, repair and ongoing maintenance of wireless communications solutions and support services for high speed, dedicated Wide Area Networks.
Total "turnkey" communication solutions including regional, national or worldwide Project Management.
NETWORK INSTALLATION
Our expertise covers UTP, STP, coax, fiber optics, and wireless media for all network topologies including Ethernet, Gigabit Ethernet, Token Ring, ARC net, 10BaseT, FDDI, ATM, ISDN, Bus, Ring, and Star.
Cable plant installation in Outdoor or Indoor environments for private, public, educational, institutional, retail, commercial, industrial or military applications.
Installation of point-of-sale, process control, building control, and intelligent building infrastructure systems.
Installation of trunk or backbone cabling between buildings or between floors of a building via fiber optics, copper cabling, or even spread spectrum/frequency hopping wireless technologies.
Compliance testing, evaluation and certification of new and existing cable plant infrastructures to ensure compliance with industry standards using state-of-the-art test equipment.
Hard and soft copy test, evaluation results for reference and troubleshooting purposes.
MAINTENANCE
Network failure of any kind is a costly and frustrating experience. Commworx will custom design a program that will meet your specific requirements and budgetary allowances for short or long term contracts anywhere you do business.
DOCUMENTATION, TESTING AND STANDARD COMPLIANCY
Commworx recognizes the importance of maintaining detailed and accurate records for premise wiring systems. We test our installations using state of the art equipment and document all cable runs installed. In addition, Commworx can provide CAD or Visio drawings detailing MDF/IDF layout, network interconnects, floor plans, and campus layouts. Commworx presently supports the following system solutions:
ADCAMPBeldenCommscopeCorningDrakaGeneral CableHubbellHellermann TytonLevitonPanduitSiemon
ISO/IEC SpecificationsTIA/EIA SpecificationsComputerized Cable RecordsCategory 5e & 6 Compliant TestingOTDR TestingPower Meter & Light Source TestingNetwork / System AnalysisFusion Splicing
GENERAL STANDARDS
Commworx installations on completion are compliant with all-relevant Canadian and International physical layer network integration standards.
NATIONAL / INTERNATIONAL COVERAGE
Commworx is able to offer your organization a wide range of communication solutions virtually anywhere you do business.
EMERGENCY SERVICE
Emergency service calls are dispatched from our Calgary head office to meet client requirements.
REFERENCES
Here's what some of our clients have said......
....Commworx's ability to arrive onsite, analyze the situation and make the required changes has been the key to the success we have enjoyed together.........The time Commworx took to explain, design and install our new network is a very important indication of the quality and pride they put into their work. Commworx was the correct choice when we selected our communications contractor........I found the communications installation portion of our office relocation, which can typically be complicated and somewhat confusing, went smoothly and would credit that to the work and knowledge transition of Commworx Integrated Solutions........Commworx ensures that our standards are never compromised both in terms of quality and system compatibility. The work has been exemplary and we would not hesitate to recommend Commworx to others........Commworx Corp. installed our current communications infrastructure, which has included many, adds, moves, and changes. The technical expertise of the company has been demonstrated to us on many occasions........I would like to take this opportunity to thank you for the level of expertise and service that Commworx provided. Commworx has been instrumental in the design and implementation of our network infrastructure....
Complete references available upon request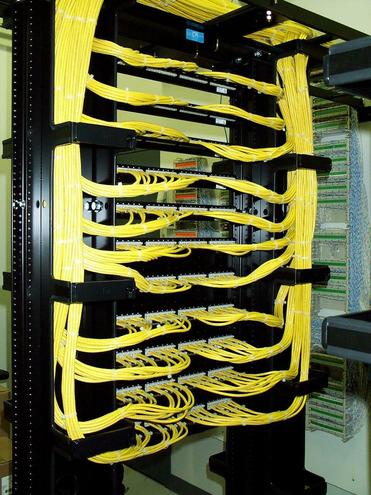 Cable plant installations for outdoor or indoor environments for private,
public, educational, institutional, retail, commercial, industrial or military applications. Servicing Small, medium and large facilities.